Main Page
Jump to navigation
Jump to search
Welcome to the Wiki for Lucas Chess, the most flexible and powerful chess software for Windows and Linux created by Lucas Monge. Lucas chess is completely free and open source.

Check out the key features here!

A personal favourite is the function Find best move which let's you make custom trainings from the mistakes in your games.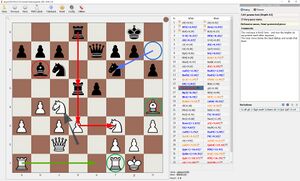 As of 2022, Lucas Chess is fully up to date and a must have for the improving Chess player. The goal of this Wiki is to show the world which amazing functions are hidden in Lucas Chess.
Downloads
This is the official project homepage: https://lucaschess.pythonanywhere.com/home
Here you can download the latest version: https://lucaschess.pythonanywhere.com/downloads
All source code is available on Github: https://github.com/lukasmonk/lucaschessR2

If you would like to contribute, please create a user account and send an email to [contribute at chessionate dot com]